Welcome to the law school's master calendar!  Use the "Event Category" filter below to find events by intended audience. (For example, if you are an alum, click on the Event Category button below and select "Alumni" from the drop-down menu; the calendar will then display events open to alumni). Please note that this is a public-facing calendar that contains all events happening on campus, any details that you wish to remain private to the UC Law SF community should not be included in your event submission. Changes to your event submissions may be directed to: website@uclawsf.edu.

Advanced Mediation Training Series: Negotiation Skills 2
September 14, 2022 @ 10:00 am

-

3:00 pm
The Center for Negotiation and Dispute Resolution (CNDR) at UC Law SF presents its Practitioner Advanced Mediation Certificate Training Series.
On the UC Law SF campus, CNDR offers high-quality, advanced dispute resolution courses on in-depth topics for practitioners. Sessions in this series assume completion of a basic mediation course (Mastering the Fundamentals of Mediation offered by CNDR in summer), but it is not required to participate.
Learn more about the Certificate series and register for other sessions on our website here.
Join us for the seventh and eighth sessions in this Certificate:
Playing for the Long Game: Negotiation Skills
Building on the previous advanced training sessions, this two-part double session focuses on providing participants with advanced and complex negotiation skills and tools to take their mediations to the next level, and create long-lasting, satisfactory resolutions for participants. 8 hours total over two separate 4-hour sessions. 8 hours total MCLE credit available. Each session includes 4 hours of instruction and 1 hour of breaks.
Topics preview:
Early, mid, and final stage negotiation strategies and challenges
Types of complex negotiations
Different mediation models for challenging cases
Negotiation styles and strategizing
Shuttle diplomacy and confidentiality
Challenging participants and attorneys
Advanced Tools, Techniques and Tips for Successfully Overcoming Impasse
Negotiation Skills 1
Date and Time June 27, 2022 from 10:00am – 3:00pm
This event will be held virtually.
Negotiation Skills 2
Date and Time September 14, 2022 from 10:00am – 3:00pm
This event will be held virtually.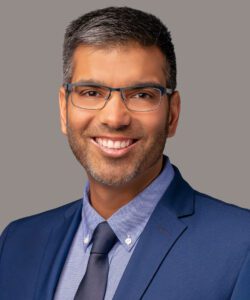 Shirish Gupta serves as an Adjunct Professor at UC Law SF, a Lecturer at UC Berkeley Law School, and a Lecturer with Santa Clara Law School. He is sought out by law firms and in-house departments for mediation and negotiation trainings. Shirish is an award-winning mediator and arbitrator with JAMS and is known for his legal acumen and economic prowess, which makes him particularly adept at diving into complex financial/technical disputes, including IP, regulatory and accounting, environmental and class actions. Shirish is sought out by Silicon Valley startups, as well as Fortune 500 companies. In 2014, The Recorder conducted an extensive survey of Bay Area attorneys and named Shirish the Best Independent Mediator. Prior to joining JAMS, Shirish practiced law with Mayer Brown, Howard Rice and Flashpoint Law. Shirish has been a leader in the majority and diverse bar associations. Shirish served as Co-Chair of the California State Bar Council of Sections, President of the South Asian Bar of Northern California and Alternate Regional Governor of National Asian Pacific American Bar Association. When not mediating, Shirish can usually be found on a soccer pitch refereeing or coaching.
Cancellation Policy
For all CNDR events, cancellations on or before 30 days prior to the event will receive a full refund, minus a $50 administrative fee. Cancellations after 30 days prior to the event will receive a 50% refund. Cancellations on or after 5 days prior to the event will not receive a refund.
ADA Accommodations Statement
The University of California, Hastings College of the Law is committed to making its facilities and events accessible in compliance with the Americans with Disabilities Act. If you need reasonable accommodations, please contact CNDR at 415-581-8941 or CNDR@uclawsf.edu, or the Disability Access Hotline at 415-581-4848 or DAH@uclawsf.edu at least two weeks before the event.
The UC Law SF Events Calendar offers a comprehensive list of campus events, including co-curricular programming, faculty lectures, colloquia, wellness activities, alumni events, larger departmental meetings, and events sponsored by College departments, faculty, law journals, and registered student orgs. This functions as the College's master calendar, which includes all events taking place on campus on any particular day. Students, faculty, or staff: Please visit Sharknet for information regarding guidelines and procedures for events. Alumni: please filter events by the category "alumni."