Welcome to the law school's master calendar!  Use the "Event Category" filter below to find events by intended audience. (For example, if you are an alum, click on the Event Category button below and select "Alumni" from the drop-down menu; the calendar will then display events open to alumni). Please note that this is a public-facing calendar that contains all events happening on campus, any details that you wish to remain private to the UC Law SF community should not be included in your event submission. Changes to your event submissions may be directed to: website@uclawsf.edu.

Professionalism as a Racial Construct featuring Leah Goodridge
November 2 @ 4:00 pm

-

5:00 pm
The Center on Racial and Economic Justice (CREJ) presents:
Professionalism as a Racial Construct
While professionalism seemingly has race neutral application, Leah Goodridge argues the norms are often used to regulate people of color in the workplace, as the standards themselves are grounded in racial subordination.  Her analysis of professionalism as a racial construct examines three main aspects of the legal profession: (1) threshold to withstand bias and discrimination, (2) selective offense, and (3) the reasonable person standard.  This presentation will also address methods to disrupt professionalism as a racial construct. Goodridge is a New York City Planning Commissioner and the Supervising Attorney of the Housing Project at Mobilization for Justice (formerly known as MFY Legal Services), where she represents tenants in New York City Housing Court, New York State Supreme Court, the Appellate Division of New York State, the New York State Court of Appeals and federal courts.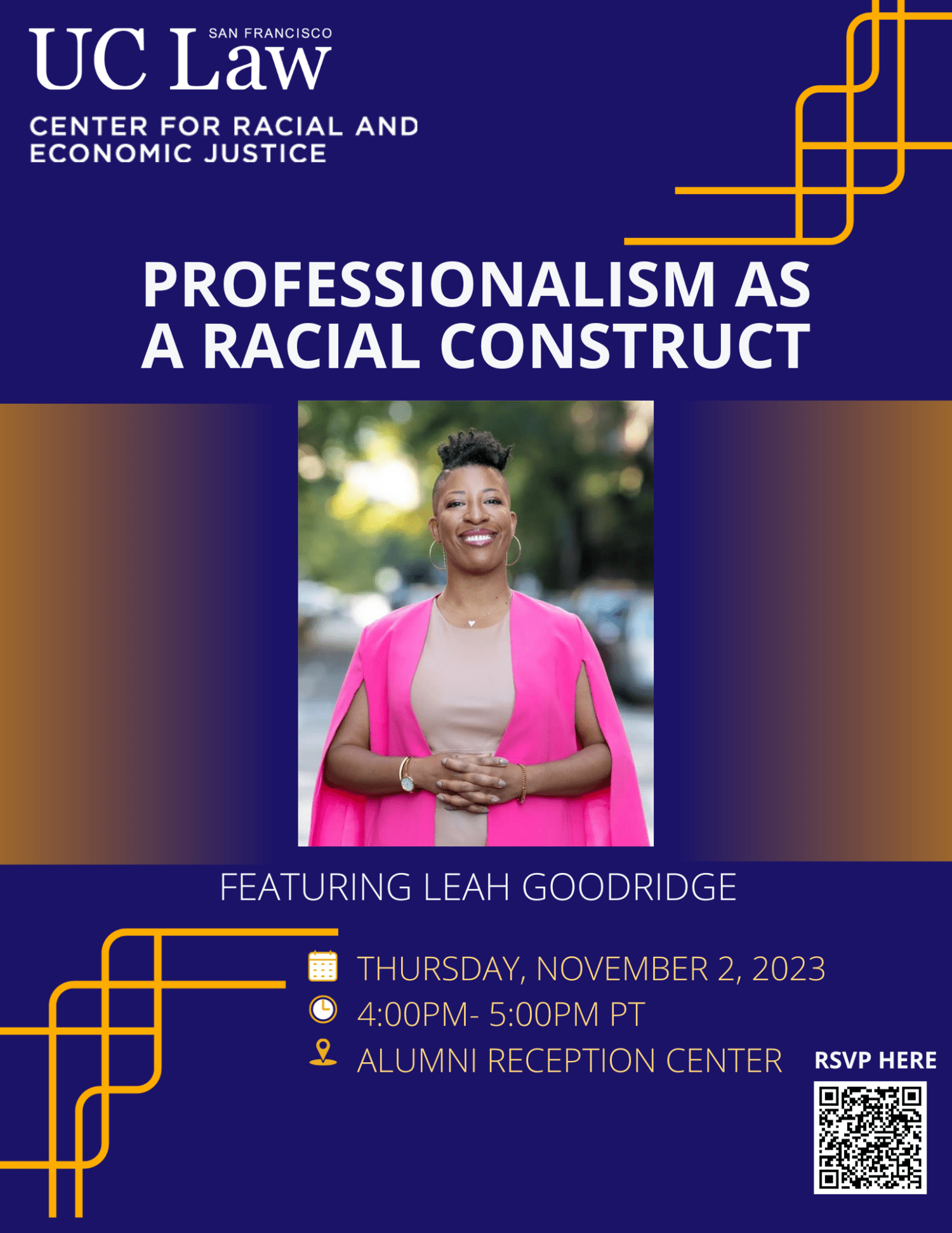 The UC Law SF Events Calendar offers a comprehensive list of campus events, including co-curricular programming, faculty lectures, colloquia, wellness activities, alumni events, larger departmental meetings, and events sponsored by College departments, faculty, law journals, and registered student orgs. This functions as the College's master calendar, which includes all events taking place on campus on any particular day. Students, faculty, or staff: Please visit Sharknet for information regarding guidelines and procedures for events. Alumni: please filter events by the category "alumni."