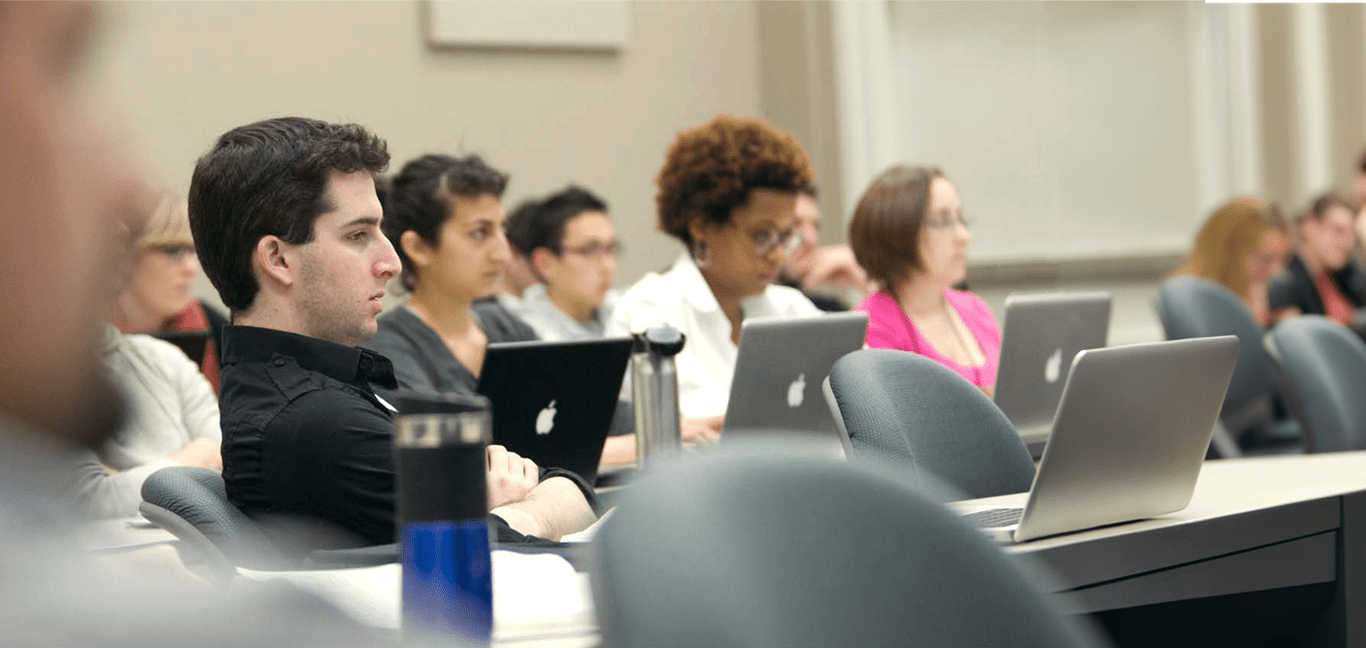 Academics
Educating Tomorrow's Leaders
UC Law SF's mission is to "provide a rigorous, innovative, and inclusive legal education that prepares diverse students to excel as professionals, advance the rule of law, and further justice." Graduates of our degree programs are leaders of the bench and bar, C-suite executives, general counsel, directors of NGOs, entrepreneurs, public servants, and change makers in every professional walk of life. UC Law SF's academic program launched all of them toward achieving their professional goals.
The core of that program is our uniquely broad and deep curriculum, which students can tailor to their interests. The JD program offers hundreds of courses each year, organized, for those who wish to specialize, into twelve concentrations. Many courses mix theory and practice, and our robust clinical and externship programs allow students to hone skills as judicial externs, in GC's offices, in legislators' offices, or with corporate counsel—among other placements.
Connection is the essence of an excellent legal education. Students forge life-long bonds with our internationally renowned research and clinical faculty because faculty members prioritize teaching, mentorship, and student success. Students connect with each other in the classroom because our faculty use interactive teaching methods, such as team-based projects. And students connect with the San Francisco and Bay Area community and the world by serving clients, working on projects with real-world application, and studying abroad with global partners.
Come to San Francisco. Connect. Change the world.

Pursue your Passion
We help prepare students for successful futures in the field of law that they're most passionate about. Explore the concentrations we offer below.

Experiential Learning
Our campus is uniquely located next to the courts and in a hub of tech and health innovation. As a result, our students have access to equally unique opportunities to build upon their legal education.
Learning through real world experiences
Business Tax Practicum for Social Enterprises
Co-taught by Professors Alina S. Ball and Manoj Viswanathan, this live-client course is concerned exclusively with transactional tax issues — giving students the opportunity to apply what they've learned in the classroom to real world issues.
Startup Legal Garage / Center for Innovation
Students in the Startup Legal Garage provide corporate and intellectual property work to early stage startup companies under the supervision of leading attorneys throughout the Bay Area. Startup Legal Garage is led by Professor Robin Feldman.
UCSF/UC Law SF Medical-Legal Partnership for Seniors
The Medical-Legal Partnership for Seniors Clinic is an innovative, award-winning clinic at UC Law SF. The clinic partners with UCSF and the San Francisco VA Medical Center to provide advance health care, estate planning, public benefits, and wrap-around legal services to older adult patients.