Welcome to the law school's master calendar!  Use the "Event Category" filter below to find events by intended audience. (For example, if you are an alum, click on the Event Category button below and select "Alumni" from the drop-down menu; the calendar will then display events open to alumni). Please note that this is a public-facing calendar that contains all events happening on campus, any details that you wish to remain private to the UC Law SF community should not be included in your event submission. Changes to your event submissions may be directed to: website@uclawsf.edu.

Creative Commons – Be Your Own Valentine: Trauma-Informed Self-Care
February 14 @ 12:30 pm

-

1:30 pm
Legal professionals have some of the highest rates of impact from stress. In this hands-on workshop we will make valentines to ourselves and learn effective techniques to avoid burnout, manage the impacts of vicarious trauma, and practice ways to sustain a healthy work-life balance. Join us to engage in a creative expression of self-love at this month's Creative Commons.
Date: Tuesday, February 14, 2023
Time: 12:30 – 1:30pm
Location: 333-204
Open to students, staff, and faculty of UC Law SF. Not open to the general public.
Creative Commons is a partnership between the Career Development Office (CDO) and the Center for Negotiation and Dispute Resolution (CNDR).  Our workshops are led by CDO's Gabriel Bellman and CNDR's Professor Mattie Robertson.
Our goal is to bring principles of creativity and holistic lawyering to improve the skill and wellness of the legal field.  Sessions are usually one (1) hour long and include active break-out exercises, including guided writing, improvisation, and role-playing activities.  At the conclusion of each session, we will look at how to integrate mindful techniques into our practice as attorneys, mediators, and human beings.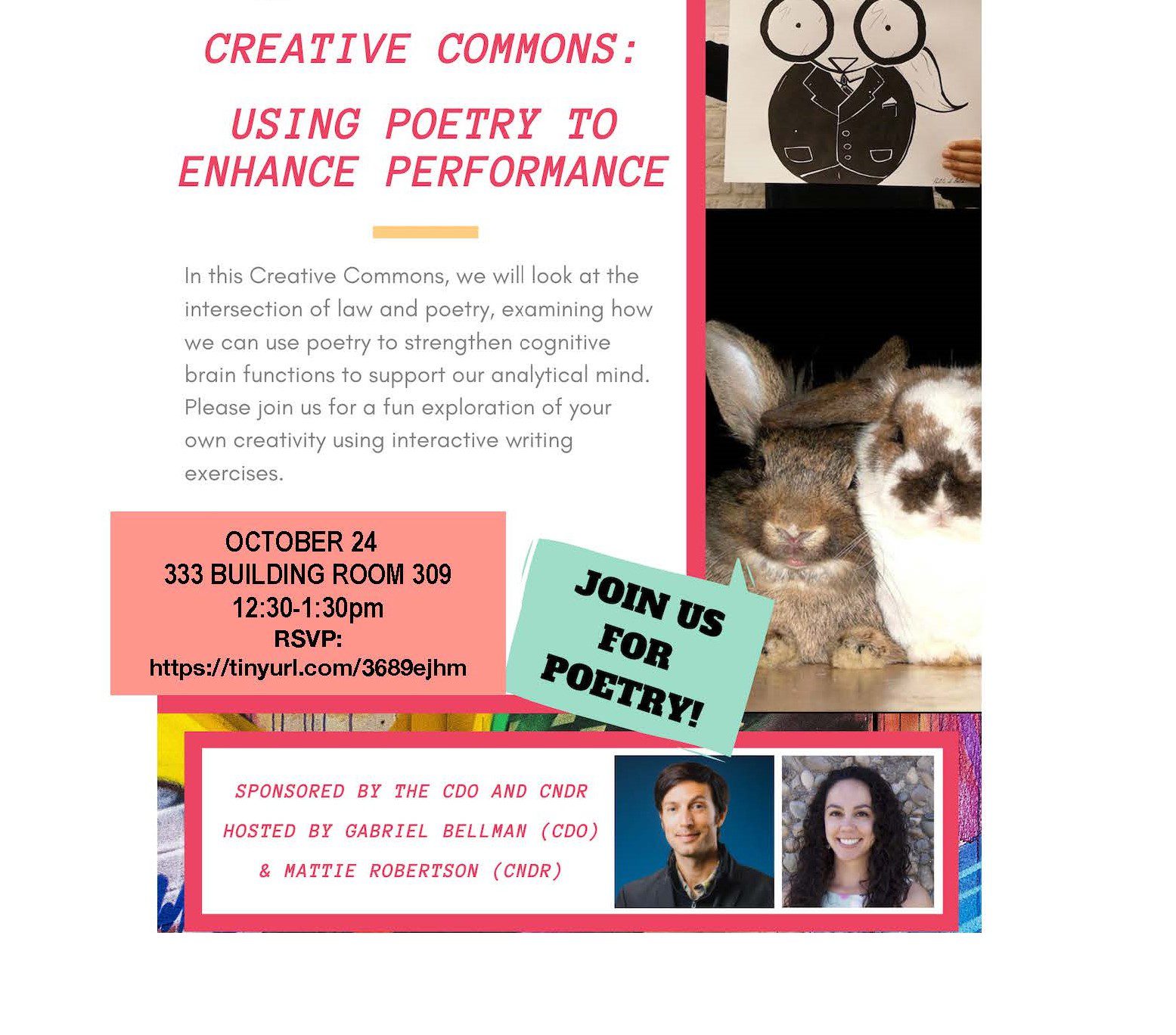 The UC Law SF Events Calendar offers a comprehensive list of campus events, including co-curricular programming, faculty lectures, colloquia, wellness activities, alumni events, larger departmental meetings, and events sponsored by College departments, faculty, law journals, and registered student orgs. This functions as the College's master calendar, which includes all events taking place on campus on any particular day. Students, faculty, or staff: Please visit Sharknet for information regarding guidelines and procedures for events. Alumni: please filter events by the category "alumni."