Welcome to the law school's master calendar!  Use the "Event Category" filter below to find events by intended audience. (For example, if you are an alum, click on the Event Category button below and select "Alumni" from the drop-down menu; the calendar will then display events open to alumni). Please note that this is a public-facing calendar that contains all events happening on campus, any details that you wish to remain private to the UC Law SF community should not be included in your event submission. Changes to your event submissions may be directed to: website@uclawsf.edu.

Celebrating Twenty Years of ADR at UC Law San Francisco: A Special Event for Alumni and Students
April 14 @ 8:00 am

-

1:30 pm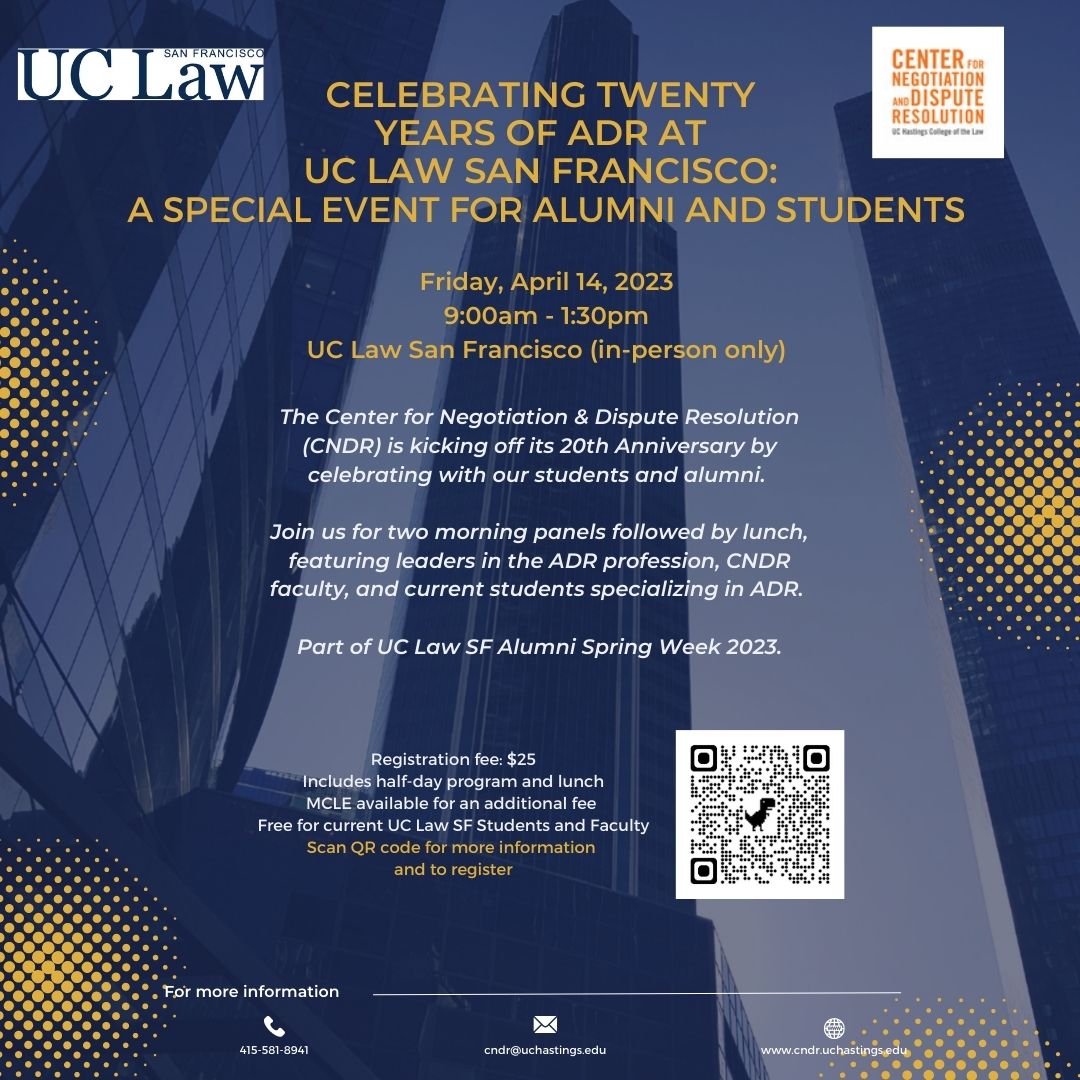 UC Law SF can count among its alumni some of the most preeminent ADR practitioners and thought leaders, both in the Bay Area and beyond.  Many of those alums took ADR courses and clinics, or competed on ADR moot court teams, offered though the Center for Negotiation & Dispute Resolution (CNDR).  To commemorate its 20th Anniversary this year, the Center has organized a special event coinciding with the UC Law SF Alumni Week 2023.  Please join us for two information-packed panels featuring leaders in the ADR profession as well as current students specializing in ADR.
Location and Date
Where: UC Law San Francisco, Alumni Reception Center (ARC), 200 McAllister Street, San Francisco, CA 94102
When: April 14, 2023, 9:00am – 1:30pm (same day as the All Alumni Party in SF City Hall)
Program
8:00 – 9:00  Optional networking breakfast
9:00 – 9:15  Welcoming remarks
9:15 – 10:30  Panel No. 1:  Everything You Wanted to Know about Starting or Developing a Mediation/Arbitration Practice or Taking it to the Next Level
Are you thinking of taking a break from the daily grind of litigation and transitioning into work as an arbitrator or mediator?  How do you get a foothold in the field and start getting cases?  How easy is it to make a career out of doing ADR full time, especially if you are younger or have never spent time on the bench?  This panel of seasoned neutrals will offer advice on these and other questions and share stories about their own unique career paths.  Members of the audience will also be invited to share their strategies and experiences.
Moderator: Professor and Director Hiro Aragaki (CNDR)
Speakers: Deborah Bogaards ('81, Bogaards Law), Bruce Edwards ('81, JAMS), Rachel Ehrlich ('96, Judicate West), Ruth Glick ('91, independent arbitrator & mediator)
10:30 – 10:45  Break
10:45 – 12:00  Panel No. 2:  Twenty Years of ADR at UC Law SF: What We've Accomplished, Where We're Headed, and How You Can Get Involved
In this community building panel, students and faculty will showcase the array of ADR courses, clinics, moot courts, programming, and external training offered through CNDR.  Alums will be invited to ask questions, provide input on future directions for the Center, and suggest ways they can become involved.
Moderator:  Professor and Deputy Director Mattie Robertson ('10, CNDR)
Speakers:  Professor Howard Herman ('83, JAMS), Professor Clint Waasted ('04, Zynga), Students Ariel Kahn and Casey Vaez
12:00 – 1:30   Hosted lunch
2:00 – 2:30     Optional tours of 198 McAllister (sign up here)
6:00 – 8:00     All Alumni Party at San Francisco City Hall (separate registration fee; sign up here)
Moderators
Hiro Aragaki (Director, CNDR)
Professor Aragaki's scholarly interests cluster around the intersection of contract and procedure, and his work on ADR has been published in top U.S. law journals, and has won prestigious accolades. Professor Aragaki has written extensively on federal arbitration law and is currently engaged in a number of long-term projects looking at mediation from comparative, development, and empirical perspectives.  He has frequently been called upon to train judges and lawyers in ADR and consult on ADR reform projects around the world, most recently as an Advisor to the Expert Committee on Mediation, Supreme Court of India, and as an advisor to the judiciary of Kazakhstan on arbitration law reforms. Professor Aragaki is a former member of the California State Bar Standing Committee on Alternative Dispute Resolution, a former member of the AALS Section on Dispute Resolution Executive Committee, and a former Board member of the California Dispute Resolution Council. He currently holds leadership positions in the ABA Section on International Law and ABA ROLI, and is a Professorial Research Associate at SOAS School of Law in London. He serves as an arbitrator and mediator at JAMS, and is admitted to practice in California, New York, the District of Columbia, and England & Wales.

Mattie Robertson ('10, Deputy Director, CNDR)
Mattie Robertson is a dispute resolution professional who has mediated hundreds of cases, and is certified as a mediator, facilitator, and arbitrator. She has mentored many other professional mediators and conducted numerous conflict resolution trainings and practicums on a variety of topics. Mrs. Robertson spent a decade working in community mediation nonprofits after law school. At SEEDS Community Resolution Center, she oversaw a practicum which trained professional mediators, and managed the Court Mediation Program, which provided same-day mediation services to litigants in the Alameda County Superior Courts. At California Lawyers for the Arts, Mrs. Robertson was Program Director for the Arts Arbitration and Mediation Services (AAMS) serving the greater San Francisco Bay Area. Since 2019, Mrs. Robertson has been Deputy Director of the Center for Negotiation and Dispute Resolution (CNDR) at UC Law SF, having served as Interim Director of the Center in 2022.
Mrs. Robertson is the former Chair of the Alameda County Bar Association's ADR Executive Committee; and is a member of the Alameda County Superior Court's ADR Administration Committee; The Mediation Society; Chabot College's Administration of Justice Department's Advisory Board; and, the Bay Area Coalition for Community Mediation (BACCM). Mrs. Robertson is a graduate of UC Law SF in San Francisco, beginning her mediation career in CNDR's Mediation Clinic, and is a graduate of San Francisco State University.
Speakers

Debra Bogaards ('81)
Debra Bogaards, Class of '81 and Past President of the UC Law Board of Trustees (2020-2022), is an accomplished private mediator.  Ms. Bogaards has practiced as both a plaintiff and defense attorney for the past 40 years in San Francisco, mainly in the areas of personal injury, wrongful death, employment, elder abuse, toxic tort and landlord/tenant law.  Ms. Bogaards has almost 40 successful jury trials under her belt.   For the past six years, Ms. Bogaards has been actively settling cases in both private mediation and as an MSC officer in Marin and San Francisco.  She is considered to be a consummate professional, with grit, determination and perseverance in helping parties settle their cases.  She attributes her skill as a mediator to her ability to relate to both sides, and employ tools to break impasse.

Bruce Edwards ('81)
Bruce Edwards has been an industry pioneer in developing the field of alternative dispute resolution. Since 1986 he has mediated over 8000 disputes throughout the United States involving complex, multiparty lawsuits and specializing in matters of high emotion. Mr. Edwards has consistently received recognition for his work as a mediator including awards for "San Francisco Mediation Lawyer of the Year", California Top Neutral", and "Best Lawyer, Alternative Dispute Resolution Category" to name a few. Since 1993 Mr. Edwards has served as an Adjunct Professor at the Straus Institute of Dispute Resolution at Pepperdine University School of Law where he teaches masters degree and professional skill development courses in advanced mediation. Mr. Edwards has taught similar programs at Stanford Law School, Hastings College of the Law, University of Maryland Law School and Vermont Law School. In addition to his teaching in the United States, Mr. Edwards has personally taught mediation skills in more than 20 countries to judges, attorneys, business leaders, ombuds and aspiring mediators. (See attached Appendix of Trainings/Conferences). In 2014 Mr. Edwards cofounded the Edwards Mediation Academy, an online educational platform for delivering virtual mediation training to a global audience. Ongoing training courses currently include students from India, Brazil, Rwanda, Zambia, Sri Lanka and Singapore. As a founding partner of JAMS-Endispute and later JAMS, the largest provider of ADR services in the United States, Mr. Edwards has worked at the epicenter of the business of mediation for the past three decades culminating in his service as Chairman of the JAMS Board of Directors.
Mr. Edwards currently serves on the Board of Directors for the Weinstein International Foundation, a non-profit organization working in conjunction with Weinstein Jams International Fellows from over 75 countries dedicated to making mediation accessible worldwide. He also serves on the Advisory Council for Convergence Center For Policy Resolution, a non-profit committed to convening people and groups with divergent views on critical national issues.
Rachel Ehrlich ('96)
A mediator of civil disputes in California and across the country, Rachel is based in the Bay Area and affiliated with Judicate West.  She mediates insurance coverage and bad faith, personal injury, and real estate (including financing, purchases/disclosures, construction and landlord-tenant).  Rachel mediates in several court programs including the Northern District of California, trains mediators and mediation advocates, and regularly presents on mediation of insurance coverage and bad faith, mediation confidentiality, and ethics.  Rachel serves on Alameda Superior Court's ADR Administration Committee, UC Law SF Board of Governors, and co-Chairs the ABA Committee for Mediator Ethical Guidance.  She also mentors UC Law SF students and alumni in job search and career development.
Ruth Glick ('91)
RUTH V GLICK is a full-time independent arbitrator and mediator whose skill and knowledge stem for her background as a lawyer, educator and businesswoman.  With over 25 years' experience, she has resolved a wide variety of domestic and international complex business contract and tort, financial, securities, labor and employment, distributorship, partnership, health care, technology, trade secrets, immigration and medical device disputes.  She is on the International Centre for Dispute Resolution (ICDR), Large/Complex Case Arbitration and Mediation panels of the American Arbitration Association (AAA) and the CPR.
Ruth is a Fellow of the College of Commercial Arbitrators (CCA), Fellow of the Chartered Institute of Arbitrators (FIArb), Distinguished Fellow of the International Academy of Mediators (IAM) and a member of the National Academy of Distinguished Neutrals (NADN).  A Northern California Super Lawyer and Best Lawyer, Ruth is a past Chair of the Dispute Resolution Section of the American Bar Association and founder of Women in Dispute Resolution (WIDR).  She currently serves on the Council of the American Arbitration Association-International Centre for Dispute Resolution (AAA-ICDR).  She was an Adjunct Professor of Arbitration Law at UC Law SF from 1995-2005.  For further information see www.ruthvglick.com

Howard Herman ('83)
Howard Herman is a full time mediator with JAMS in San Francisco. He has worked as a mediator and as a developer of ADR programs since 1985. He has mediated several thousand disputes covering a wide range of case types, specializing in matters involving high emotion and complex power dynamics. For more than 23 years, until March 2020, Mr. Herman led the highly regarded ADR program of the U.S. District Court for the Northern District of California in San Francisco. He began his ADR career in the earliest experiments with appellate mediation at the Ninth Circuit Court of Appeals. He then served as the first director of ADR programs at the Superior Court in Contra Costa County before moving to the Northern District. A recognized leader in the development of the ADR field, Mr. Herman has taught basic and advanced mediation skills to thousands of mediators, lawyers, law students and judges throughout the United States and around the world. He served as chair of the ABA Section of Dispute Resolution from 2015 to 2016. He was the inaugural recipient of the Robert F. Peckham Award for Excellence in ADR presented by the Ninth Judicial Circuit in 2002 and received that award again in 2019. In 2011, he was co-recipient of the Mediation Society of San Francisco's annual Award for Outstanding Contribution in the Field of Mediation. In 2013, he was the inaugural recipient of the Exceptional Service Award presented by UC Law SF College of the Law's Center for Negotiation and Dispute Resolution, where he has taught ADR courses since 1996.
He previously practiced as a civil litigator with the firms of Graham & James and Kindel & Anderson in San Francisco. He received his J.D. from the University of California, UC Law SF, and his A.B., with Highest Honors, from the University of California at Berkeley.

Clint Waasted ('04)
Clint Waasted is the head of the prestigious UC Law SF Negotiation and Dispute Resolution Team Competition Program. He has designed and grown the innovative educational program from the ground up since helping start the teams 2001, developing individually-tailored multi-year ADR education plans for his students. Under Clint's guidance and leadership, UC Law SF competition teams have earned dozens of international and national championships and earned praise and recognition internationally as the premier Competition ADR Program. He is also a Lecturer at Law at both UC Law SF and Boalt Hall at UC Berkeley, teaching negotiation and mediation classes, serves as Faculty Advisor to the UC Law SF Student ADR Board, and is an Executive Fellow at the Berkeley Center for Law and Business
Mr. Waasted is currently the Director of Business Development at Zynga, Inc., the industry's leading developer and publisher of mobile and social games, where he structures business deals and partnerships and negotiates intellectual property, licensing, and partnership contracts. Prior to working at Zynga, he spent 8 years managing the Legal and Business Affairs department at two major game development studios (Crystal Dynamics and Eidos Montreal) for Square Enix Europe, heading all business development activities and negotiating and structuring complex technical and development agreements, and all company contracts. Clint is also the Founder and Chairman of the Board at EMI Foundation, an education nonprofit that provides resources and fundraising for ADR education programs. Additionally he is the President of EMI Partners, an ADR firm that provides Mediation services as well as corporate Negotiation and Mediation training and coaching. Mr. Waasted is a graduate of Pomona College and UC Law SF.
About CNDR
The Center for Negotiation and Dispute Resolution (CNDR) has consistently been recognized by US News & World Report as one of the top ADR Programs in the country.  The Center delivers approximately seventeen different ADR courses and clinics, hosts an ADR Team that has consistently received top accolades at moot court competitions (including the ICC International Commercial Mediation Competition in Paris), and offers an ADR Concentration for JD students as well as a Dispute Resolution & Legal Process specialization for LLM students.  Over its twenty-year existence, the Center has twice been awarded the Ninth Circuit Court of Appeals' Alternative Dispute Resolution Education Award and has trained or mentored thousands of lawyers and judges, both in the U.S. and abroad.  If you are interested in getting involved in the Center, please contact the Center's Director, Professor Hiro Aragaki.
The UC Law SF Events Calendar offers a comprehensive list of campus events, including co-curricular programming, faculty lectures, colloquia, wellness activities, alumni events, larger departmental meetings, and events sponsored by College departments, faculty, law journals, and registered student orgs. This functions as the College's master calendar, which includes all events taking place on campus on any particular day. Students, faculty, or staff: Please visit Sharknet for information regarding guidelines and procedures for events. Alumni: please filter events by the category "alumni."