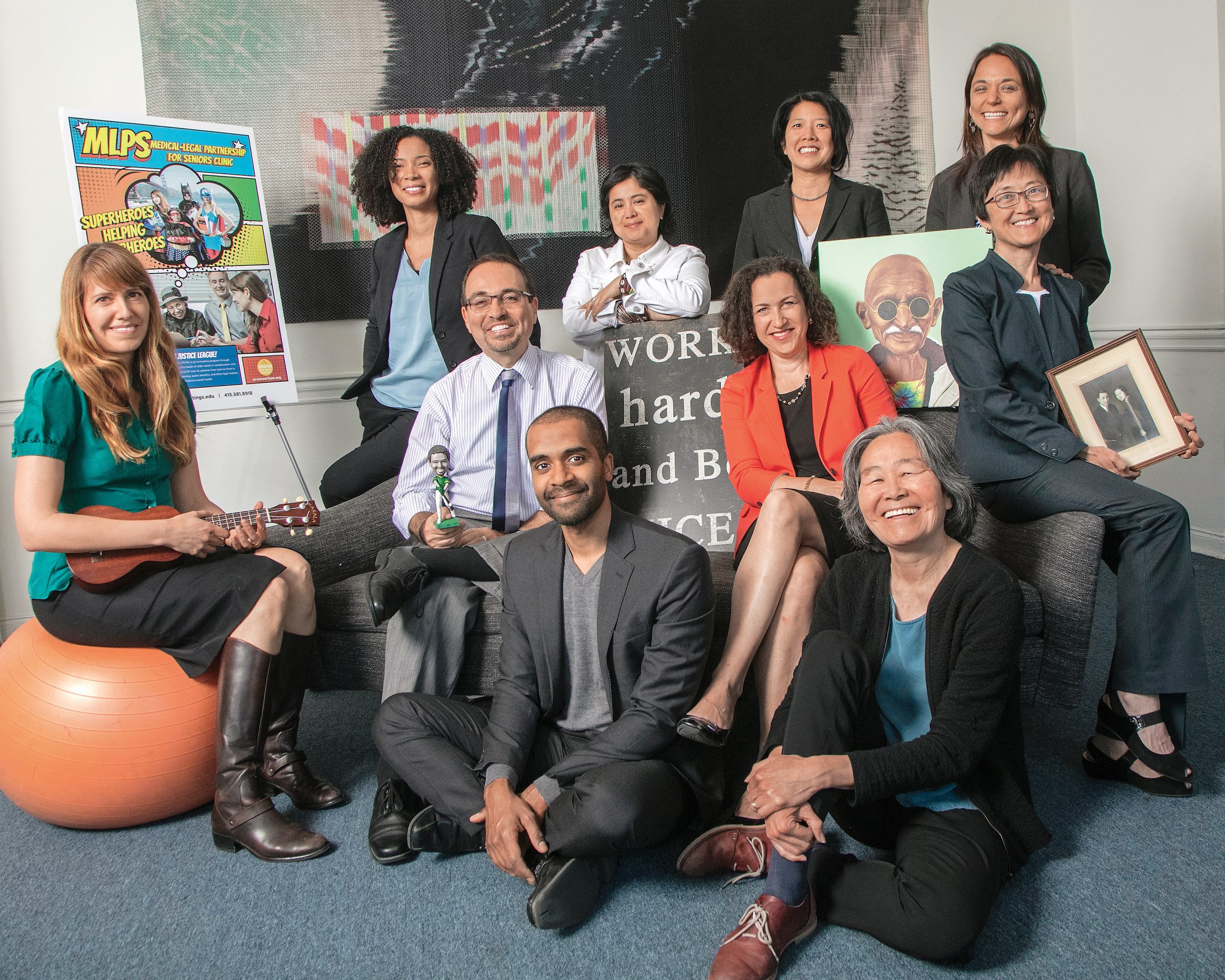 Clinical
Programs
At UC Law SF, we believe that legal education is an active, engaging process that prepares students for real-world law practice.
Our award-winning clinical teachers and nationally renowned clinical program— ranked 15th nationally by U.S. News' survey of clinical professors— combine the powers of innovative classroom and experiential learning opportunities with our unique location and relationships in San Francisco.
A signature goal of all clinical programs at UC Law SF is for students to develop their own vision of the sort of ethical, proficient professionals they will become.  In some clinics, students represent individuals or businesses and in others they work on policy or legislative matters on behalf of organizations and institutional clients.  With low student-to-teacher ratios, each clinic is an intensive learning lab.
Current UC Law SF students should consult the Clinical Programs intranet page for the most up-to-date, detailed information on our clinics and field placements and how and when to apply to the different programs.
Make a Real Difference in People's Lives
Child Welfare Practicum
Represent parents or children in child welfare proceedings by working with attorneys at Legal Services for Children, East Bay Children's Law Office, or the San Francisco Dependency Panel( part of the SF Bar Association).
Individual Representation Clinic
Represent individual clients from initial interviews through the final administrative hearing or court trial, including fact investigations, client counseling and advocacy in Superior Court or before state and federal administrative law judges.
Immigrants' Rights Clinic
Work directly with clients facing immigration issues, including those fighting removal proceedings, seeking political asylum, and pursuing U.S. citizenship.
Low-Income Taxpayer Clinic
Give free legal assistance to low-income taxpayers with active tax controversies with the Internal Revenue Service and provide education and outreach to taxpayers who speak English as a second language.
Medical-Legal Partnership for Seniors Clinic
Work alongside healthcare providers at UCSF medical clinics and in patients' homes. Assist elderly patients and collaborate with their physicians in an interdisciplinary context. Help patients and their families plan for health and nursing home care needs and to advocate for needed assistance.
Lawyering for Children Practicum at Legal Services for Children
Advocate for children and other vulnerable populations impacted by trauma by working with attorneys and social workers at Legal Services for Children.
Refugee & Human Rights Clinic
Engage in human rights work and in direct representation of refugees seeking political asylum or other assistance in partnership with UC Law SF's Center for Gender & Refugee Studies, one of the nation's leading refugee advocacy organizations.
Workers' Rights Clinic
Under the supervision of attorneys from Legal Aid at Work, advise low-income workers on a full range of labor and employment law issues, including unpaid wages, discrimination, harassment, whistleblowing, and unemployment insurance.
Promote Justice for Individuals, Communities and the Planet
Community Group Advocacy & Social Change Lawyering Clinic
Work with attorneys at Bay Area public interest organizations and collaborate with grassroots community groups pursuing systemic change across a broad spectrum of legal areas.
Criminal Practice Clinic
Work with select Bay Area prosecutors' and public defenders' offices, conducting interviews, investigations, plea negotiations, and witness examinations in evidentiary hearings and trials.
Environmental Law Clinic
Gain hands-on experience working with experts in non-profit environmental groups and government agencies, such as Earthjustice and the San Francisco Bay Conservation & Development Commission.
Mediation Clinic
Mediate civil disputes at San Mateo County Small Claims Court and discrimination complaints in employment, housing and public accommodations with the City and County of San Francisco's Human Rights Commission. Part of the Center for Negotiation and Dispute Resolution.
Make Good Law and Policy
Legislation Clinic
Spend a semester in Sacramento involved in every aspect of "working a bill" through the legislative Process, from basic legal research and drafting to attending committee and floor sessions.
Government Law Clinic
Work with city attorneys' offices around the Bay Area to research substantive issues, draft ordinances, and attend public meetings and hearings.
Be Part of the Next Wave of Innovation
Business Tax Practicum for Social Enterprises
Explore issues of business taxation while working with social enterprises that blend a social mission with market-based business strategies.
Social Enterprise and Economic Empowerment Clinic
Serve as outside counsel on corporate and transactional matters for social enterprises – both for-profit and non-profit organizations that direct their income streams for social purposes.  Gain hands-on experience as a business attorney and develop transactional lawyering skills.
Startup Legal Garage
Join the Bay Area startup community and provide corporate and intellectual property work to startup companies under the supervision of leading private attorneys. Gain an in-depth understanding of the incentive structures that drive business in addition to the law.