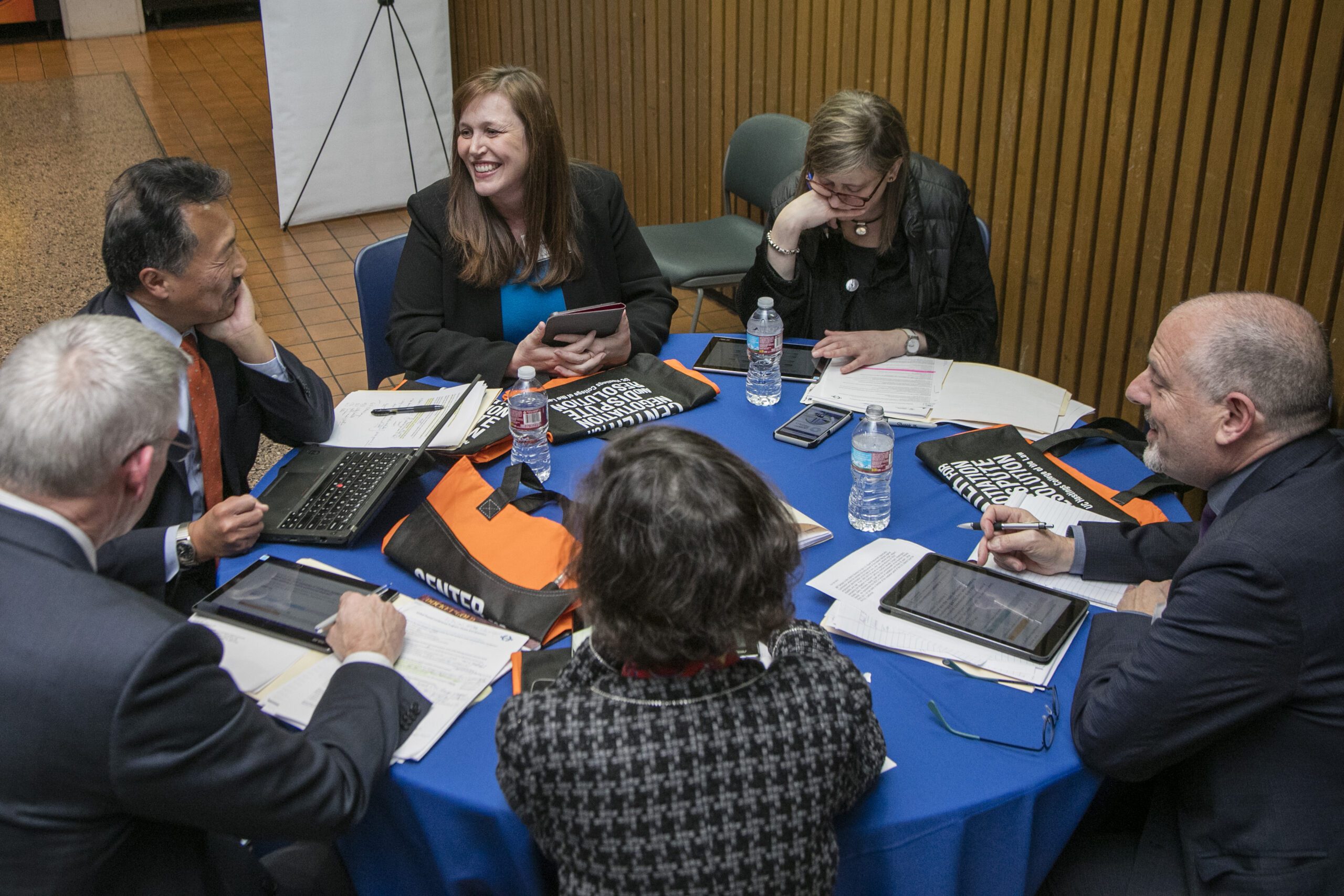 Training for Practitioners & Judges
Superior education and cutting-edge training.
The Center for Negotiation and Dispute Resolution (CNDR) offers a variety of mediation and dispute resolution programs to the public, ADR professionals, judges, attorneys, and court administrators. We collaborate on projects with local trainers, non-profits, commercial ADR providers, and government agencies. CNDR also offers customized training to suit your needs – we have you covered from basic certification to advanced ADR topics. MCLE Provider #9545.
Find the UC Law SF Master Calendar of events here.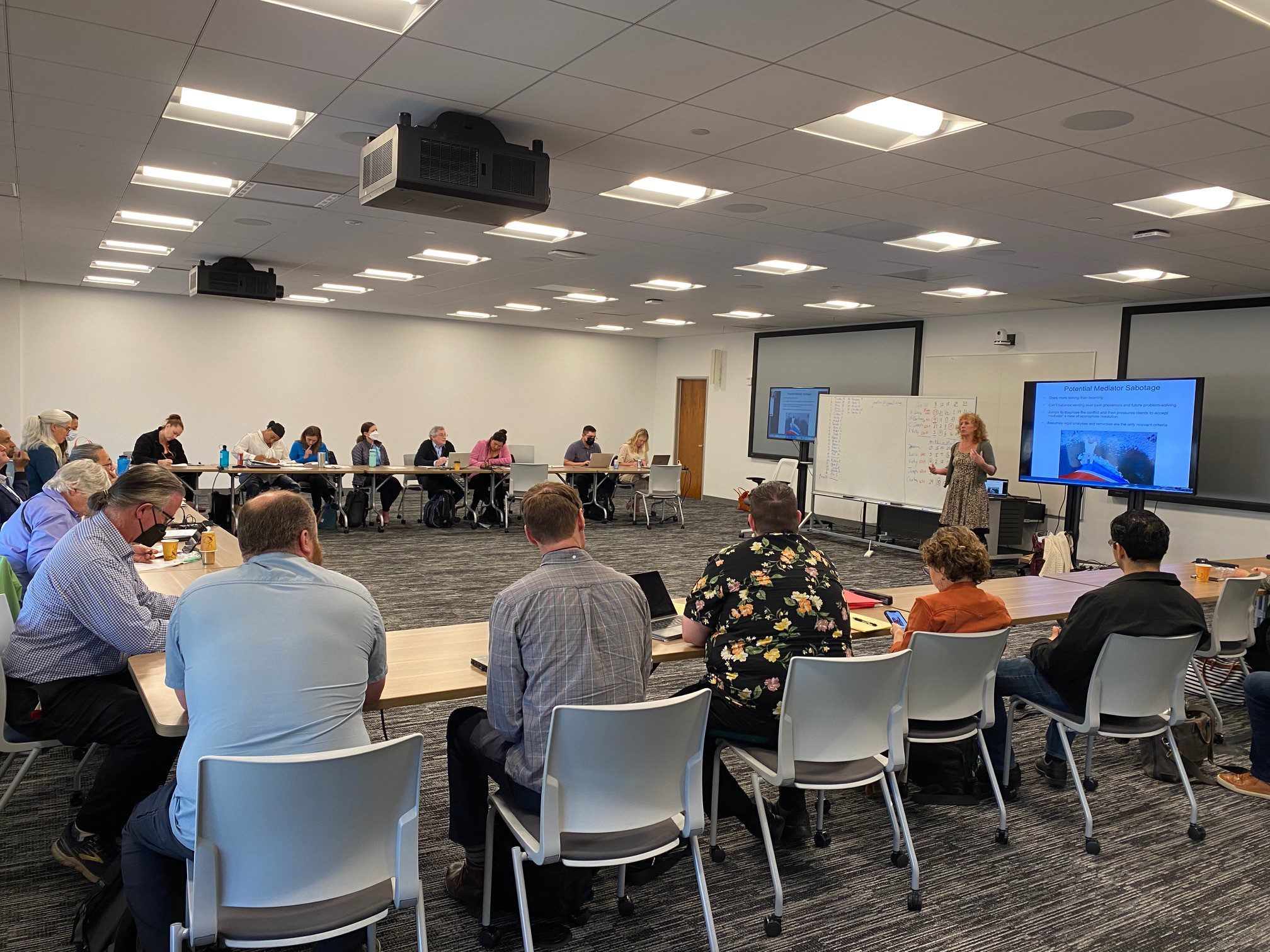 Master the Fundamentals of Mediation Certificate
Hosted at UC Law SF annually and open to the general public, this 40-hour comprehensive mediation certification training provides a unique blend of mediation theory, hands-on mediation skills training, and an exploration of the sensibilities and personal qualities required to be an effective mediator. This highly interactive and dynamic program is useful for a range of professionals who deal with people in conflict, and any attorney who represents clients in mediation, to understand the process and to be more effective in representing clients in mediation. No prior training or experience required.
Dates: (Summer 2024 dates TBA)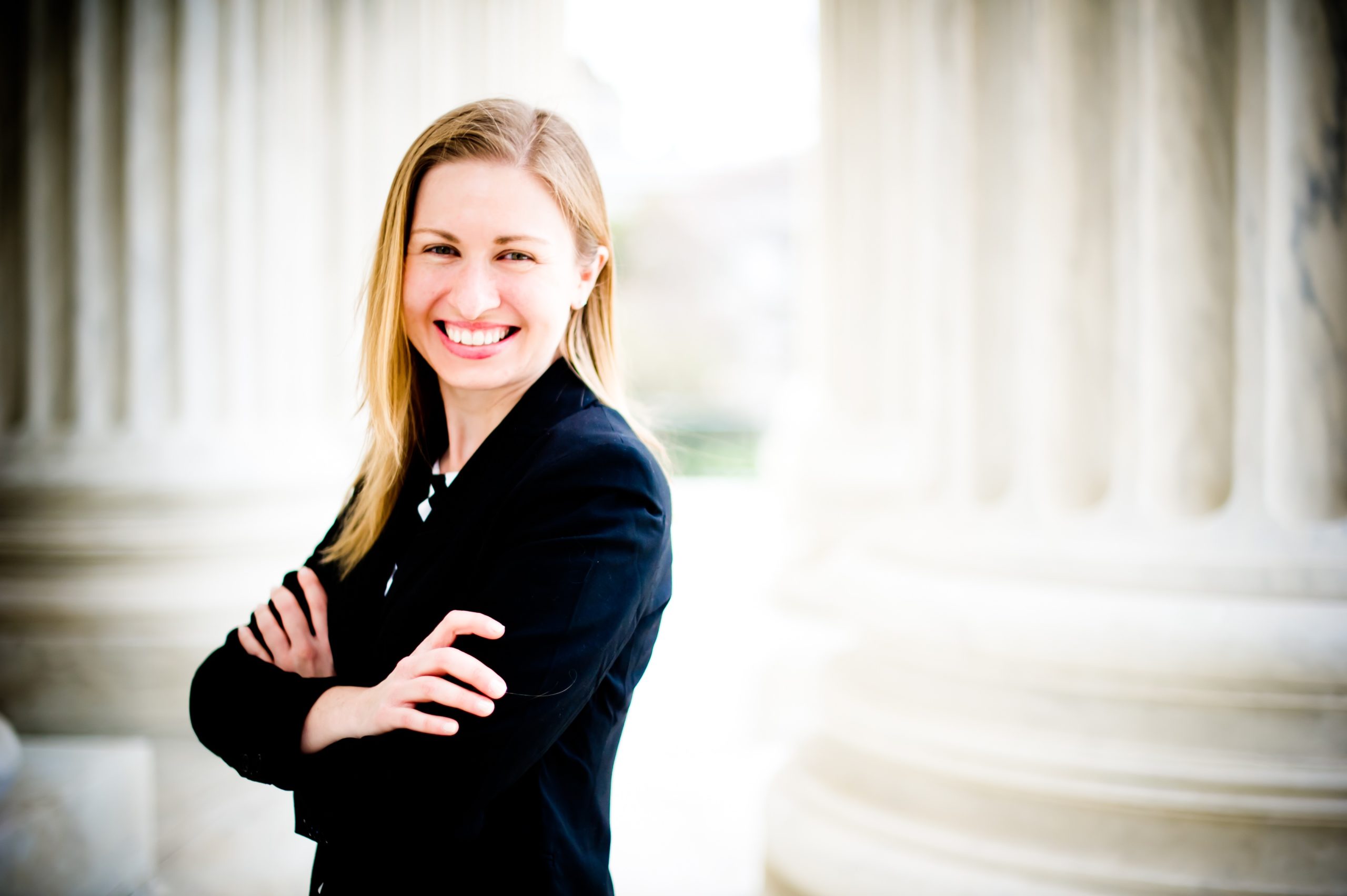 International Cross-Border Family Mediation Training
Taught by Melissa Kucinski, this program is open to family mediators who want to advance their mediation skills to work more productively with families where cross-border parenting issues arise. This training will help family mediators spot potential issues that require additional discussion and consideration between the parents, and help the mediator have a more sophisticated understanding of how to approach these complex multi-jurisdictional situations. The training will cover the legal and practical aspects of international custody, child relocation, and child abduction that may arise when a family's background includes more than one jurisdiction.
Dates: 2025 Dates TBA
More Information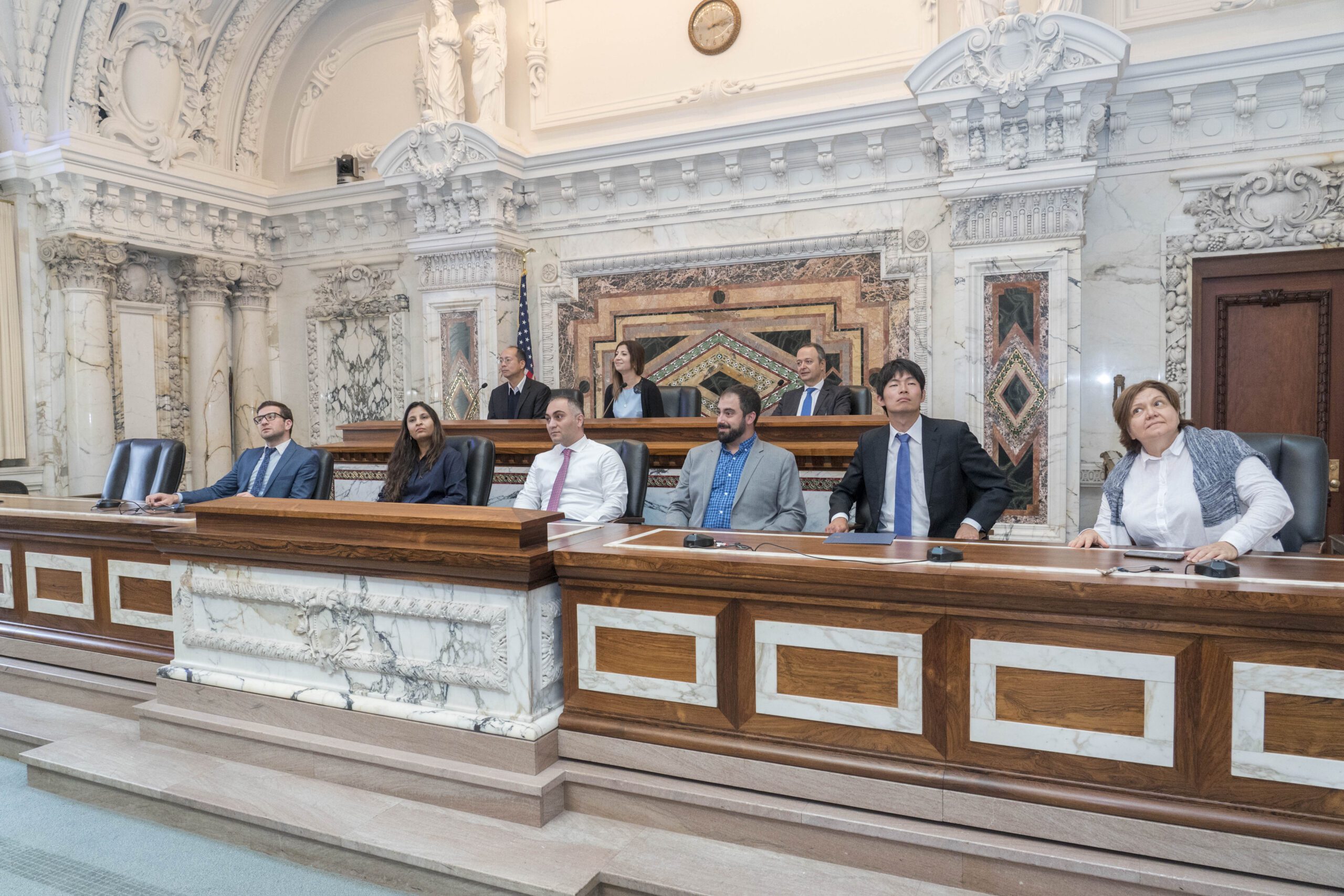 International Training
International Training Program: Promoting Mediation Through Private and Court-Connected Mediation Centers: This international training program is intended for lawyers, judges, court administrators, and others interested in learning how to cultivate a robust mediation ecosystem in their home countries through the establishment of effective mediation centers. Top-level U.S. and international experts drawn from the court system, private ADR institutions, and universities will share best practices and lessons learned from decades of ADR reform experience—information that is rarely available to the public.
International Court ADR Institute: CNDR's own International Court ADR Institute: Envisioning, Designing and Implementing Court ADR: A Practical and Theoretical Program welcomes participants from around the world. Offered from 2011-2019, this certificate four-day intensive training program, open to non-U.S. judges, attorneys and court administrators, will prepare participants to design and implement court ADR programs in their respective countries. *Institute is not Currently Offered
Contact Us For More Info
International Court ADR Institute FAQ
Participants will be selected from a pool of international applicants and will receive a certificate of completion at the end of the program.
Participants will learn how to lay the groundwork for a successful court-based ADR program by working with local stakeholders; how to assess community needs, choose ADR processes suited to those needs and develop the chosen program design; how to screen and select cases appropriate for ADR; and how to implement, evaluate and modify a program once it is underway.
Participants will also learn how to select and train neutrals to work in their programs, including the personal qualities and skill sets required for the various processes, and how to deal with ethical problems and confidentiality issues.
The Institute consists of four days of intensive learning. Instruction will involve a mixture of theoretical and practical classroom presentations and simulation exercises, as well as opportunities to observe selected court ADR programs in the immediate vicinity of the law school and to meet with ADR judges, practitioners, and scholars from the community.
In addition to group sessions, one-on-one consultation with the lead trainers will allow each participant to explore issues specific to his or her own country's legal system and needs; and a 3- to 6-month follow-up by email will allow the providers both to measure the effectiveness of the training and to offer additional assistance after the participants return to their home countries.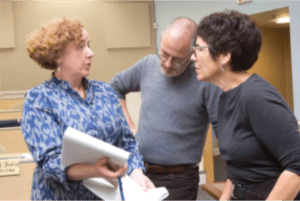 The program is designed and taught primarily by Claudia Bernard '86 (right), Chief Circuit Mediator for the United States Court of Appeals for the Ninth Circuit; Howard Herman '83 (middle), Director of ADR Programs for the United States District Court for the Northern District of California; and Sheila Purcell '86 (left), Director of the Center for Negotiation and Dispute Resolution at UC Law SF, and former ADR Director for the Superior Court for the County of San Mateo, California. The three instructors are among the most experienced court ADR program administrators in the United States, as well as being gifted and experienced teachers in the ADR field, both in the United States and around the world.
Armenia                           Macao
Austria                             Malaysia
Bangladesh                     Mexico
Bhutan                             Mozambique
Brazil                                Nigeria
Bulgaria                           Pakistan
Cameroon                        Philippines
Canada                             Poland
Chile                                  Russia
China                                Rwanda
Cyprus                              Serbia
Egypt                                Singapore
Estonia                            South Africa
Georgia                            Spain
Greece                             Taiwan
India                                 Turkey
Israel                                Uganda
Italy                                   Uzbekistan
Japan                                Vietnam
Kyrgyzstan Republic       Zambia
Lebanon
Advanced Practitioner Mediation Certificate Series
An in-depth, advanced mediation skills series designed to engage participants on specific topics that are essential in any mediator's toolkit. Taught by an experienced team of faculty and practitioners, the series will be held 2-3 times annually and sessions range from 2 – 4 hours each. First offered in 2020, sessions will begin again in early 2024.
Past Sessions: How to Assume the Neutral's Role; Increasing Effective Communication; Handling Emotions Productively; Legality and the Neutral's Basis in Law; Dynamic and Technical Mediation Approaches; Tackling Biases in Mediation; Playing for the Long Game: Negotiation Skills
Upcoming CNDR Events
No upcoming events.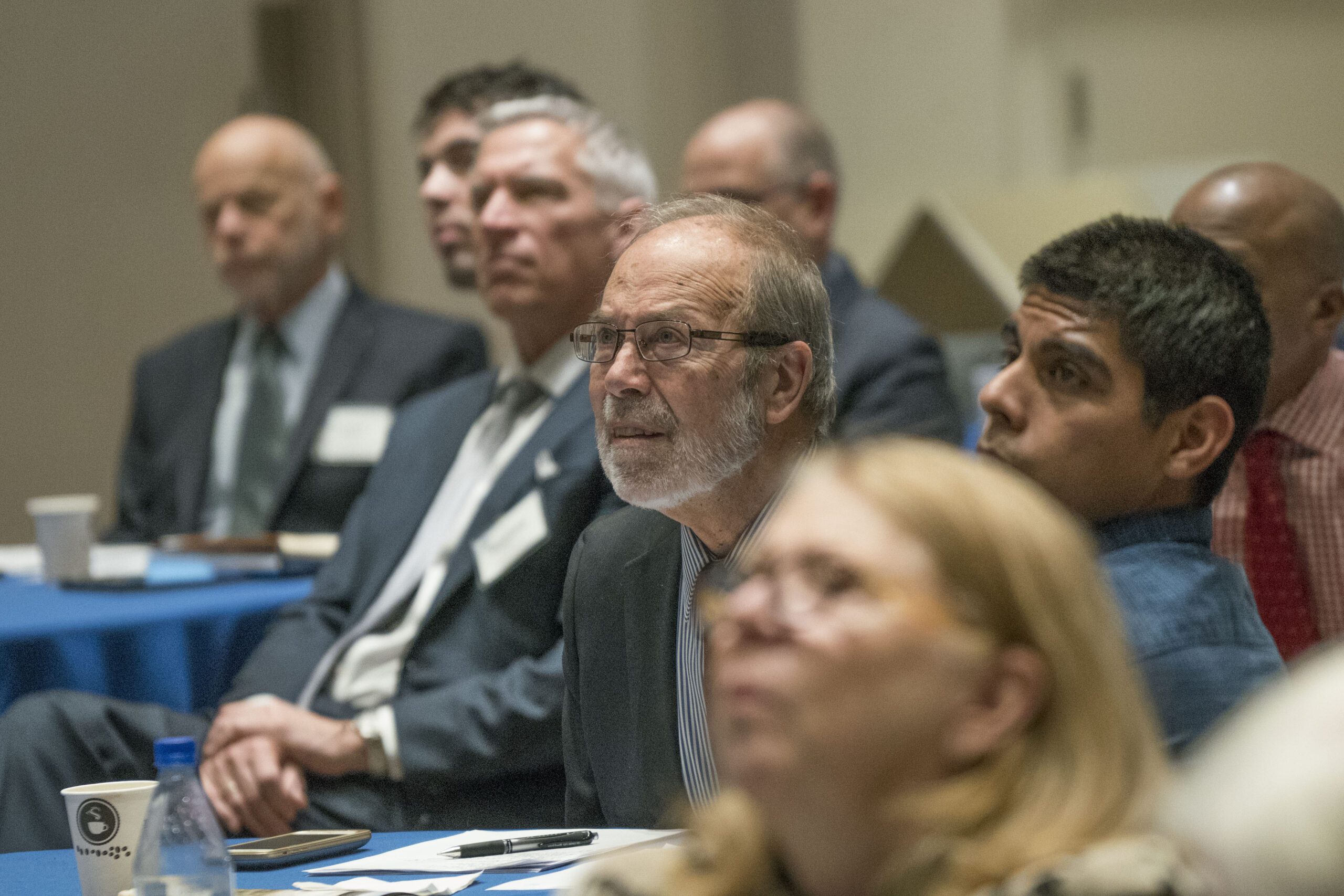 Customized Training
CNDR can work with you to design a specialized training that meets the needs of your organization or team, or any of our other training offerings can be provided privately and customized to your group.
Some past sample customized training topics: Effective Communication, Conflict Styles Assessment, Power Imbalances, Bias, Negotiation Techniques, Mediation Basics, Dispute Resolution Laws & Statutes, Trauma-Informed Mediation, and much more!
Select Past CNDR Trainings
Mastering the Fundamentals, Basic Mediation Certification
Mediation for HR Professionals
International Court ADR Institute: Envisioning, Designing, and Implementing Court ADR: A Practical and Theoretical Program
International Cross Border Family Mediation
Spanish Mediation
Advanced Mediation Training
Effective Negotiation
Mastering the Difficult Negotiation
Practice of Conflict Coaching
Stealth Facilitation
Leadership Academy
Cancellation Policy
For all CNDR events, cancellations on or before 30 days prior to the event will receive a full refund, minus a $50 administrative fee. Cancellations after 30 days prior to the event will receive a 50% refund. Cancellations on or after 5 days prior to the event will not receive a refund.
ADA Accommodations Statement
The University of California College of the Law, San Francisco is committed to making its facilities and events accessible in compliance with the Americans with Disabilities Act. If you need reasonable accommodations, please contact CNDR at 415-581-8941 or CNDR@uclawsf.edu, or the Disability Access Hotline at 415-581-4848 or DAH@uclawsf.edu at least two weeks before the event.